The fall is just beginning and I'm already into pumpkin spice everything, but since apple picking season comes and goes so quick, I figured I'd do a super, super easy apple recipe! This would be perfect to make after you get home from a day of apple picking and you're tired but excited to make something with your freshly picked apples. It's just 3 simple ingredients and 2 simple steps!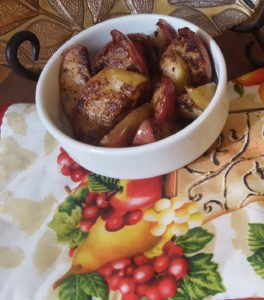 On an exciting side note, look what I found at the Supermarket yesterday:
Have a comment? Leave it below!
See Also:
Paleo Pumpkin Pie (nut free)
Soft & Chewy Pumpkin Chocolate Chip Cookies
Pumpkin Spice Coffee

Heat up a skillet on medium heat with 2 tablespoons of cooking fat (I used a combo of ghee and coconut oil)

When the cooking fat is melted, add in the apple slices and apple pie spice (depending on the size of your pan, you may need to cook the apple slices in batches - don't crowd the pan)

Cook on one side for a minute or two, then flip

Cook until soft, but not mushy

Serve with coconut milk yogurt or ice cream for maximum deliciousness!