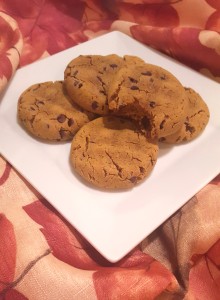 These pumpkin chocolate chip cookies are soft & chewy. They're also grain and nut free. I originally created this recipe to make pancakes, but that was a major fail. As I mixed everything together, instead of turning out like pancake batter, I had a thick dough. Sooo, I decided to make cookies and add chocolate chips. They're very lightly sweetened and make a great fall dessert. Once it hits September, I'm all about pumpkin everything. I'm your stereotypical white girl who loves fall. These cookies would pair well with my Pumpkin Spice Coffee and a crisp fall day 😉

Pre-heat oven to 350 degrees

Line a baking sheet with parchment paper

Mix dry ingredients together in a bowl

Mix wet ingredients together in a separate bowl

Pour wet mixture into dry and mix everything together until you get a thick dough

Roll dough into even-sized balls and place on baking sheet

Flatten out a bit so they are cookie-shaped

Bake for 20-25 minutes, or until toothpick comes out clean

Allow to cool & then eat!