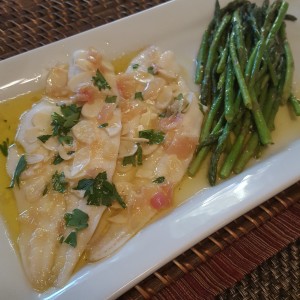 This recipe is light & perfect for summer. I aim to eat fish at least twice a week. Grey sole is very thin and cooks really fast so it's perfect for a quick & easy meal. I paired my fish with asparagus sauteed in olive oil and roasted red potatoes (potatoes not featured in the recipe). I use Kasandrinos EVOO. I don't know if you've heard about it, but there's been deception going on in the olive oil industry- much of the olive oil sold in supermarkets, when tested, turns out to be cut with cheaper oils such as canola. Kasandrinos is 100% pure extra virgin olive oil imported from Greece (and it's certified paleo!) In order to get all the health benefits of olive oil, you've got to be eating 100% pure extra virgin olive oil extracted using traditional methods.

Place grey sole fillets on a baking sheet and brush with grass-fed butter or ghee and top with salt, pepper, & almonds

Heat up 2 skillets over medium heat

Add EVOO, asparagus, garlic, salt & pepper to one of the skillets

In the other skillet, bring the wine, lemon juice, & chopped shallot to a boil

Put grey sole in the broiler & cook for 10 minutes

Move asparagus around in pan so it cooks evenly & doesn't burn

Add butter to the white wine mixture, 1 tablespoon at a time, whisking in between each one until fully melted

Plate asparagus & grey sole

Place chopped parsley on top of grey sole

Top with sauce and serve!