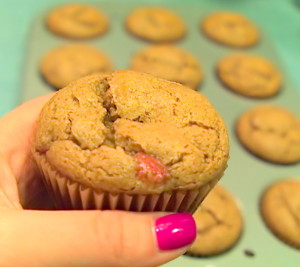 Blueberry muffins are pretty popular, but I'm pretty sure I've never actually seen a strawberry muffin before. I have always preferred strawberries to blueberries, so I thought why not make strawberry muffins instead of the traditional blueberry muffins? I love to have muffins for breakfast because they're grab and go. The thought of having to cook breakfast in the morning is just daunting to me. I really don't like to do anything until after I've had my coffee, and that includes cooking. Traditional muffins are full of gluten, sugar, and other crap, but not these! These are grain-free muffins that you can feel good about eating. Start your day off right with these delicious strawberry muffins! I know I will!

Fill muffin tray with liners

Mix the dry ingredients together in a bowl well

Mix wet ingredients together well in a separate bowl

Pour wet ingredients into dry ingredients and mix well

Fold in diced strawberries

Bake for 15 to 20 minutes, until toothpick comes out clean.