If you ever took a look at my Instagram account, it's pretty clear that I have a strong love affair going with coffee. I love coffee so many ways, for so many reasons. I gave up coffee twice in my life, and both times I actually felt depressed and sad. I love coffee for giving me energy, making me happy, helping me go to the bathroom, and because it is so damn delicious.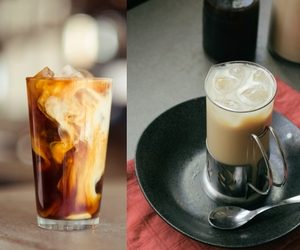 During the summer, I am strictly an iced coffee or cold brew over ice girl.
Most summer days I drink a Chameleon Cold Brew blend:
10 oz Chameleon Cold Brew Coffee Concentrate (vanilla or black)
Pour in some So Delicious Culinary Coconut Milk Light
Pour in some Silk Almond Milk Vanilla Creamer
2 scoops Vital Proteins Collagen Peptides
Splash of MCT oil
I blend all that together in a blender and then pour over ice and enjoy with a straw!
If I get an iced coffee out at a coffee shop, I'll either get a black iced coffee with a flavor (usually vanilla) or if they have coconut or almond milk I will put that in as well. However, I don't really care for the taste of almond milk in coffee; I prefer coconut milk.
If I go to Starbucks, I get either an Iced Latte with coconut milk and a flavor, or an Iced Macchiato with coconut milk and a flavor. *(Note that coffee crops are one of most heavily sprayed with pesticides, so it's best to always strive for organic whenever possible)
When fall rolls around, I go all out with pumpkin spice everything, and start drinking hot coffee again.
Most mornings in the fall I make a coffee blend like this:
10 oz brewed coffee
Pour in some So Delicious Culinary Coconut Milk Light
Pour in some Silk Vanilla Almond Milk Creamer
2 scoops of Vital Proteins Collagen Peptides
A few shakes of Pumpkin Pie Spice
I add all ingredients to a blender for 30 seconds.
I also have this Pumpkin Spice Coffee recipe that I will treat myself to sometimes in the fall. And I do like to go to Starbucks once or twice a season and get my Pumpkin Spice Latte with coconut milk. And sometimes I'll grab just a plain coconut milk hot latte from Starbucks or other coffee shops that offer coconut milk.
After pumpkin season, I make myself a Gingerbread Coffee during the month of December.
And then for the rest of the winter, until it becomes iced coffee season again, I'll usually have a hot vanilla coffee and/or latte with coconut milk. I tend to drink a lot more coffee during the winter than I do in the summer. I believe it is because the cold weather leaves me depressed and drained of energy. Coffee is what gets me through those days… I really need to move to a warm weather state.
So there you have it. I love me my coffee and I love it many different ways. It's a ritual, a routine, a tradition, and a way of life for me.
How do you like your coffee? Or are you more of a tea person? Leave it in the comments!
See Also:
Toasted Almond Protein Shake
Toasted Almond "Iced Coffee" 
Jill's Detox Juice Recipe