Who needs coffee when you can make this detox juice?! Scratch that. Who needs a second coffee when you can make this detox juice?! Because let's be real, I'm not giving up my coffee – ever. But this detox juice really is the perfect afternoon pick-me-up. It's energizing as well as detoxifying.
If you're a woman struggling with PMS, limiting your exposure to toxins (yes, this even includes toxic people!) and helping your body out with detox processes is the first step to feeling better.
This detox juice recipe includes Vital Proteins Beauty Greens, which you can buy directly through me or on Amazon. It is a pricey product, so if you'd rather use something else you could swap it for Liquid Chlorophyll or your choice of greens powder.
You can find dandelion extract at the health food store or buy from Amazon.
I also add Biotics Super Phosphozyme to mine. This supplement is designed to breakdown any gallstones or sludgy bile to help your body eliminate toxins from the body much easier. This product is sold to clients only – so if you'd like to get a bottle, please fill out this form.
Beet juice is also great for the gallbladder, so you can add it in if you'd like.
This detox juice is refreshing and delicious and can be enjoyed alongside your lunch!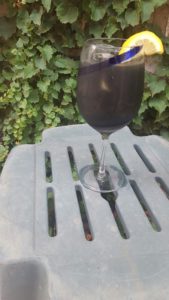 Mix all ingredients together and serve over ice!