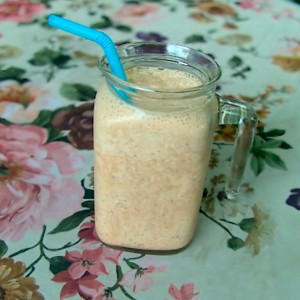 I started working out with a personal trainer about two months ago and he is kicking my ass! His workouts are super tough and I am LOVING it! I decided to try drinking protein shakes so I can help rebuild/repair my muscles after all the heavy lifting. After looking into different protein powders- egg white protein, beef protein, & whey protein, I decided grass-fed whey protein was the way to go. I normally avoid dairy as much as possible (I'll indulge in some grass-fed cheese on weekends if I'm craving it), but the grass-fed whey that I chose seemed to be the best after reading the ingredients lists on multiple products, as well as customer product reviews.
<– This is the protein powder that I used. (Click on it to order via my Amazon Affiliate link)
I also included collagen protein in this shake because of it's many health benefits, including: aids in healthy digestion, aids in joint health, promotes youthful skin, strong nails, healthier hair, strong bones, and helps to maintain a healthy weight.
<– This is the collagen that I used. (Click on it to order via my Amazon Affiliate link)
The Flavorgod Chocolate Donut seasoning that I used is a limited edition flavor. If you are unable to get your hands on it you can replace it with cacao powder and a little honey if it's not sweet enough.
I'm normally not much of a smoothie or shake person, but I must say this Strawberry Strudel Protein Shake I made was delicious.
*Note to self: Do not drink the whole protein shake in under 5 minutes unless you're willing to suffer the major stomachache/nausea* (Once that passed, I did feel pretty great)
Easy- *****
Fast- *****
Spicy- no

Add all ingredients to a blender and blend until smooth