Salmon Salad (Quick & Easy)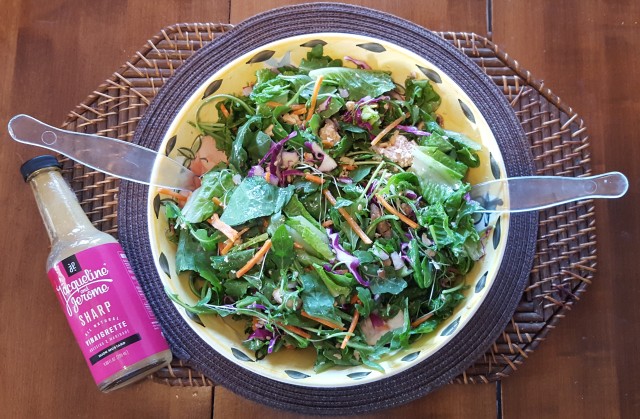 I have to admit I've been slacking lately on eating my veggies. The other day my body was screaming to me that I needed to eat a salad. So I made a salmon salad the past for the past two days for lunch & I even had some green juice! It may have also had something to do with the fact that I just bought some Tessemae's & Jacqueline and Jerome dressings that I was excited to try, but I really am trying to be more mindful about including more vegetables in my diet.
I bought all pre-cut veggies from Whole Foods, so I easily put this salad together in about 5 minutes. This is a super quick & easy lunch! Admittedly, I'm pretty lazy when it comes to preparing food, so the less effort, the better – and this is almost zero effort when you buy pre-cut veggies & pre-made dressing like I did!
If you can't find a clean salad dressing near you and don't want to order online, you can make this dressing easily by mixing:
1 part vinegar
2 parts extra virgin olive oil (I use Kasandrinos EVOO)
1.5 tbsp dijon mustard
salt & pepper, to taste

Add all ingredients to a bowl & mix together