My sister and I made these chocolate chip cottage cheese pancakes together on Saturday morning and we loved them! They came out so delicious and they're high in protein! We ate them along side bacon and eggs with coffee and milk for the ultimate perfect Saturday morning breakfast.
For the flour, we used Jovial Einkorn All Purpose Flour. This flour is imported from Italy. It has a very low gluten content, it's not hybridized, it's unbleached and unbromated. We love this flour because it's a traditional, easy to digest, wheat that is full of vitamins and minerals.
For the cottage cheese, we used Good Culture Organic Low-Fat Cottage Cheese. We love this cottage cheese because it's made with milk from pasture raised cows. It also has small curds which is perfect for making cottage cheese pancakes. We like to use low-fat since we're cooking the pancakes in coconut oil, topping with butter, eating with eggs cooked in butter + bacon and drinking coffee with whole milk, so we don't need any additional fat.
For the chocolate chips, we used Enjoy Life Mini Chocolate Chips. We like these because they have minimal ingredients, no additives and taste delicious!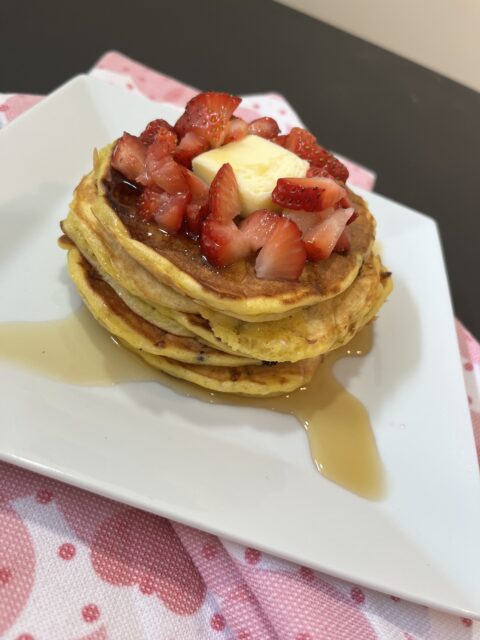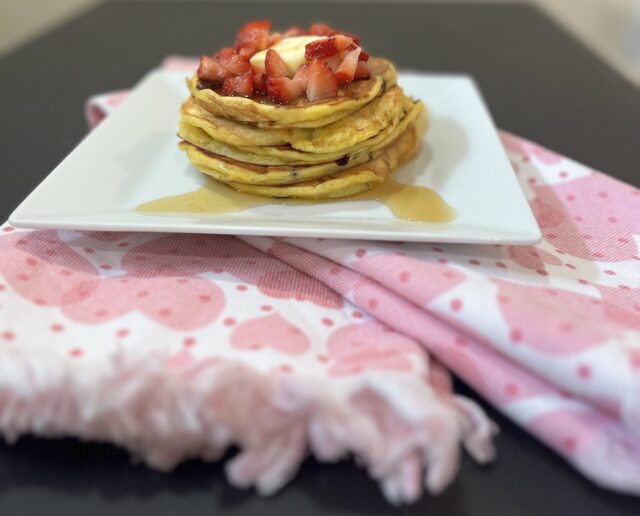 In a large bowl, mix together flour, baking powder and sea salt

In a separate bowl, whisk together eggs, cottage cheese, maple syrup, and vanilla extract, breaking up any lumps

Pour wet ingredients into the bowl with the dry ingredients and mix everything together well

Add in chocolate chips and stir

Heat coconut oil in a large skillet or griddle on medium heat

Spoon out batter onto pan, making about 5 inch long pancakes

Cook until golden brown on each side and cooked through. Adjust heat as necessary to avoid burning.

Don't crowd pan. Make in batches as necessary.