Meat sauce with noodles was always one of my favorite dinners growing up. Now, sometimes I'll eat it with gluten-free rice noodles and other times I'll use a veggie noodle, like in this recipe. You can use a spiralizer to turn any veggie into noodles! For this recipe I used butternut squash, but you can use zucchini or sweet potato if you'd prefer.
If you buy all pre-chopped vegetables like I did, this recipe is super quick & easy – it's perfect for a week night dinner!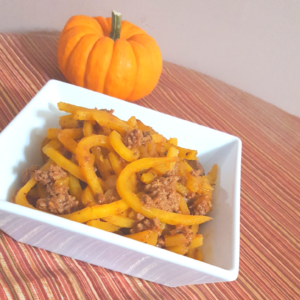 Have a comment? Leave it below!

In a large skillet over medium heat, add in the ground beef, onions, garlic powder, salt and pepper

Break up beef and mix everything together

When beef is browned, add in mushrooms, butternut squash noodles, bone broth, tomato sauce, and Italian seasoning

Mix everything together and cook until noodles are al dente

Serve! (If you do dairy, serve with grass-fed parmesan cheese)