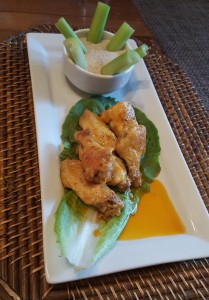 I'm a huge fan of buffalo wings- buffalo chicken has always been one of my favorite foods. I honestly don't know what took me so long to make my own. Since going paleo, buffalo wings became a rare treat- but I will be making these a lot more often now! This recipe is SO easy- and for those of you who know me, you know I loveeee easy recipes! Easy + Delicious = you can't go wrong! This would be perfect to serve to guests and doesn't take much effort on your part.
The dairy-free ranch dipping sauce recipe I used came from the Fat Burning Chef Cookbook by Abel James. It's hands-down the best dairy-free ranch I've ever tasted!
On a totally unrelated note- I've been painting my own nails for about a month (maybe a month and a half?) now to save money, and I must say I am getting pretty good at it. I really don't think anyone can tell that I do them myself (unless you look close). I'm a huge fan of gel manicures- I was spending $28 plus tip biweekly to get them done, which I really couldn't justify any longer. My ex was constantly telling me to stop wasting money on my nails and do them myself- I think he'd fall over and die of shock if he knew I'm actually doing that now LOL. But in all honesty, it was really Diane Sanfilippo (author of Practical Paleo and The 21-Day Sugar Detox) who made me realize it was time to start painting my own nails. I was listening to her Build a Badass Business podcast, and she talked about when she was building her business, she had to make sacrifices in order to get to the level of success she has now. She is a lover of gel manicures, like myself, and said that one of her sacrifices was her gel manicures- she would instead do her own nails. Isn't it strange how we don't listen to the people close to us, but will easily take the advice of strangers? I get annoyed when my friends and family don't listen to me, and then come back and tell me they heard what I told them from someone else and now they believe it- but I am guilty of it too! Why do we do that?!
Easy- *****
Fast- ****
Spicy- ***

Pre-heat oven to 425 degrees

Line a baking sheet with parchment paper

Place chicken wings on baking sheet and sprinkle with salt and pepper

Bake for 45 minutes or until golden brown & crispy (flipping halfway through)

While chicken is cooking, mix the butter, hot sauce, garlic powder, salt & pepper together in a bowl

When chicken is done, add it to the bowl and toss with sauce