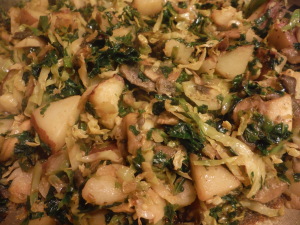 I love potatoes. And brussels sprouts. I really love pretty much all foods. This side dish combines starch and veggies to make what I like to call The Ultimate Side Dish.  This will go with anything and is even better with chopped bacon mixed in. Use a food processor to do your chopping for you and save on time.
Easy- ****
Fast- ****
Spicy- no
Ingredients:
3-4 red potatoes, chopped
1/2 large yellow onion, chopped
4 garlic cloves, minced
1 package shaved brussels sprouts
1 package mushrooms, chopped
4-5 cups kale, chopped
bacon fat, for sauteing
1/2 tsp paprika
1 tsp garlic powder
salt and pepper, to taste
4-5 pieces of bacon, cooked & chopped (optional)
Procedure:
1. Heat up a large skillet over medium/high heat.
2. Add in about a tbsp of bacon fat
3. Once the fat melts, add in your potatoes and onions and move around in pan to avoid burning
4. After about five minutes add in the garlic and continue to move around in pan
5. Once the potatoes and onions start getting soft add in the shaved brussels sprouts and some more bacon fat (if needed)
6. Mix everything together then add in the mushrooms
7. Cover pan if needed to help soften the potatoes
8. Add in the kale, paprika, garlic powder, and salt and pepper
9. Mix everything together
10. Turn heat down to low and cook to desired level of doneness.
11. If using the bacon add in and mix everything together.