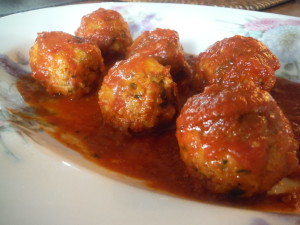 I ate so much for Christmas Eve and Christmas, and it was all not paleo. I, of course, felt so sick afterwards. My body is now craving super light, clean foods. I am also strongly considering doing the 21 day sugar detox starting on January 5th. I think my body could use a detox. Anyway, I made some turkey meatballs to recover from the holiday damage I did to my body. It's been a few days since Christmas, but I'm still not fully recovered. I think I'll be back to normal tomorrow…
Ingredients:
1 lb organic ground turkey
1 tbsp onion powder
3 garlic cloves, minced
1 large egg
1/4 cup fresh Italian parsley, chopped
1/4 cup ground golden flaxseeds
1/2 cup almond flour
3 tbsp homemade paleo ketchup or your choice of organic ketchup
salt and pepper, to taste
3 tbsp olive oil
3 cups organic marinara sauce
Procedure:
1. Combine the onion powder, garlic, parsley, egg, flaxseeds, almond flour, ketchup, salt and pepper in a large bowl.
2. Add in the turkey and mix everything together.
3. Make small balls with the turkey mixture and place on a baking sheet.
4. Heat up a skillet to medium/high heat and add the oil.
5. Add in the turkey meatballs and cook until browned on all sides. All of the turkey meatballs may not fit in the pan all at once, so you may have to cook them in shifts.
6. Turn off heat.
7. Add the marinara sauce to the pan. (Add back any turkey meatballs you removed from the pan)
8. Turn the heat on to medium/low and simmer for about 15-20 minutes, until the sauce thickens a bit.
9. Season sauce with salt and pepper. Serve.