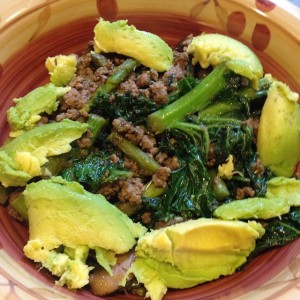 I bought pre-cut asparagus, mushrooms, and kale, so that made this recipe even easier and faster for me. This meal takes about 40 minutes from start to finish. This is a simple meal, that tastes good and is satisfying. It is strict paleo and good for busy nights.
Ingredients:
1-2 tbsp bacon fat
1 lb grass fed ground beef
5 pieces asparagus, chopped
5 sliced mushrooms
3-4 cups chopped kale
2 minced garlic cloves
1 tsp onion powder
¼ tsp chili powder
1 tsp garlic powder
1 tsp Italian seasoning
salt & pepper to taste
sliced avocado
Procedure:
Heat a large skillet over medium-high heat
Add 1-2 tbsp of bacon fat
Throw in asparagus & keep moving around in pan for about 5-7 minutes
Add mushrooms and kale with some salt and pepper and mix together
Cook for about 2-3 minutes then add ground beef and all the seasonings
Break up the beef with a wooden spoon and mix everything together
Cook until beef is no longer pink
Put in bowls and top with avocado.