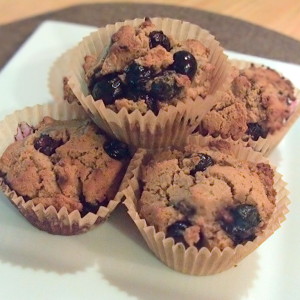 I've been eating a lot of collagen lately. I mix it in my protein shakes, put it in my coffee, eat Bulletproof collagen protein bars, & now I'm making protein muffins with it! It definitely does have anti-aging benefits – my acne scars have been clearing up and I have younger looking skin. Collagen is also great for your joints & digestive system. It also helps your hair grow and your nails stronger. The brand I use is Vital Proteins.
To make the muffins grain-free and nut-free, I used Otto's cassava flour and Bob's Red Mill coconut flour. I also used brown butter because it's incredibly delicious- I get mine from Tin Star Foods, you could also make your own brown butter if you would like to save money.
If your batter is too sticky/dry you can add more coconut milk.

Pre-heat oven to 350 degrees

Mix dry ingredients together in a bowl

Mix wet ingredients together in a separate bowl, using an electric mixer

Pour wet ingredients into dry ingredients and mix together

Line muffin tray with liners

Bake for 15 to 20 minutes- until toothpick comes out clean