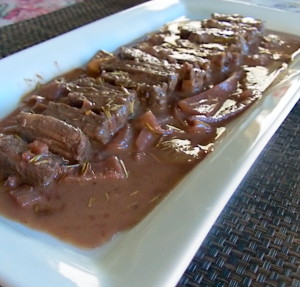 So this is the first week of the Nutritional Therapy Consultant program that I am taking through the Nutritional Therapy Association! I am eager to learn more about nutrition and real food so I can help people heal themselves with food. It's going to be hard work going through the program while working full time but it's totally worth it. Paleo changed my life so much and I can't wait to start helping other people change their lives with paleo!
I love cooking with wine. It makes me feel like I'm eating out at a nice restaurant because it just makes sauces so much more delicious. Like I've mentioned in previous posts, wine is a paleo gray area. Use your own discretion when it comes to alcohol. I choose to drink wine in moderation and I think that is fine, but do what feels right to you. If you're okay with having wine, this sauce is delicious! You can use a different type of steak if you prefer, this recipe is really about the sauce. This would be great served with asparagus and roasted red potatoes!
Easy- ***
Fast- *****
Spicy- no

Heat up a large skillet to medium/high heat.

Add in about a tbsp of butter.

Once the butter is hot, add in the onions, garlic, and rosemary. Continuously stir in pan.

When the onions are soft, add in the wine and mustard.

Whisk together and simmer for about 5-10 minutes, until sauce reduces

Slowly add in the rest of the butter, whisking after each tbsp until fully melted.

Season with salt and pepper.

Heat up a separate skillet to medium/high heat.

Add in the steak and cook on both sides till done to your liking.

Remove from pan and slice steak into strips.

Add steak to a serving dish and top with sauce.