So, I've been hearing a lot about Beautycounter lately, from many of my favorite trusted bloggers. Beautycounter is a makeup and skincare company that uses safer ingredients than conventional products. They test their products for safety, but don't compromise on quality. Sounds great – I'm ready to try!
Makeup is one area that I haven't switched over to natural products (besides my lip care and mascara) because I haven't been able to find any that work well and I'm just not willing to compromise on quality. So, I ordered some products from Beautycounter to give them a try.
I got the Tint Skin Foundation, Touchup Skin Concealer Pen, and Mattify Skin Finishing Powder.
I'm sad to report that I haven't been too impressed.
Maybe there's a learning curve and I need to do more experimenting (or maybe it's just my skin), but here's my thoughts so far after 4 days:
Tint Skin Foundation
The Tint Skin Foundation is similar to BBB cream, which is basically just a tinted moisturizer. I've used tinted moisturizer's before, and I was not a fan. After years of treating my body terribly, the skin of my face is not in the best shape, so I need a foundation that has great coverage and I prefer foundation that gives an airbrush look. In all honesty, I've been having a hard time finding a good foundation that I like in general.
The problems I had with the Tint Skin Foundation are:
it settles into every line, crease, and pore on my face –  huge problem
it comes off easily making my skin look uneven in color as the day goes on.
it doesn't have good coverage
To try and remedy this, I put on extra moisturizer and primer before applying the foundation. It helped a little, but not 100%. I am working on healing my skin and I've been seeing improvements. I imagine that when my skin is healed, the makeup will look nice, but isn't the point of makeup to make your skin look nice when it's not perfect?
They also say you can layer it for more coverage, but why would I want to use so much product and have layers of makeup on my face?
I am not going to return the foundation, but I'm not sure if I'll be purchasing it again. I am awaiting some tips via email from my consultant, so maybe there's something I can do to improve the above issues. I will update this review as I learn more and continue to use the product. So far I've noticed it looks much better without using the Mattifying Skin Finishing Powder.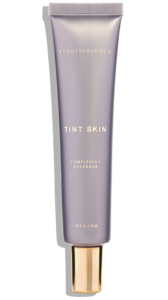 Touchup Skin Concealer Pen
I've never really liked any concealer that I've ever used, and this one is no different. It doesn't really make any difference with my dark circles or acne spots, and, just like the foundation, it settles into the lines on my face and under the eyes.
Again, I'm not going to return it, but I also don't think I'd buy it again. I'll update as I learn more.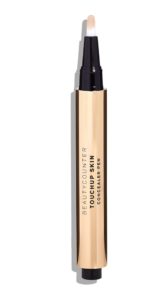 Mattifying Skin Finishing Powder
This was my least favorite of all the face products I purchased. It made my skin look extremely dry, patchy, and scaly. This one I will be returning.
I've been using my regular bronzer on top, instead of the Mattifying Skin Finishing Powder, and it's been helping to make the makeup look a lot better. I use Too Faced Chocolate Soleil bronzer.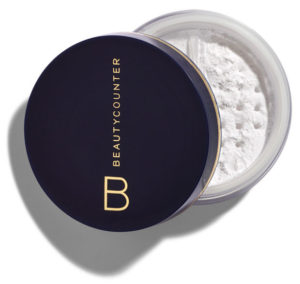 I really wanted to love this makeup, but in all honesty I'm really never satisfied with the foundations and concealers that I buy. I've been on the hunt for one that I love for years. I was really hoping this would be it since they use safer ingredients, but for now, I am still on the hunt for the perfect foundation and concealer.
However, I am working on my skin and have been seeing great results with Primal Life Organics Coffee Bean Serum and C-ex Serum, so maybe soon I won't need any foundation 😉
Have you tried BeautyCounter? Got any tips? Leave your thoughts in the comments!
See Also:
Are Artificial Sweeteners Really Better Than Sugar?
Stress Got You Down?