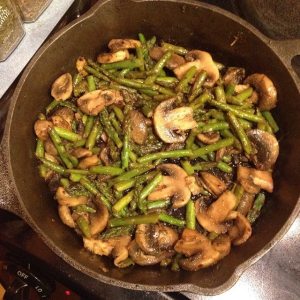 I had normally only been using duck fat to roast potatoes, but I decided to branch out and try it with something different. I am so glad I did! This came out even better than I was expecting and the whole family agreed. This is super easy to make, especially if you have pre-chopped vegetables. It cooks pretty fast, so it's an easy side dish to make on busy nights. It's strict paleo and simply delicious! Non-paleo guests are sure to love this as well. It does have a mild spice due to the chipotle. This side dish is versatile and can go along with many protein dishes.
Easy- *****
Fast- *****
Spicy- **
Ingredients:
1 bundle asparagus, chopped
1 pack mushrooms, chopped
1-2 tbsp duck fat
½ tsp garlic powder
½ tsp onion powder
1 tsp chipotle pepper seasoning
salt & pepper to taste
Procedure:
Melt duck fat in sauté pan
Add all ingredients and mix together and keep moving around in pan until done to desired softness.