Warm Spiced Apple Slices
The fall is just beginning and I'm already into pumpkin spice everything, but since apple picking season comes and goes so quick, I figured I'd do a super, super easy apple recipe! This would be perfect to make after you get home from a day of apple picking and you're tired but excited to make something with your freshly picked apples. It's just 3 simple ingredients and 2 simple steps!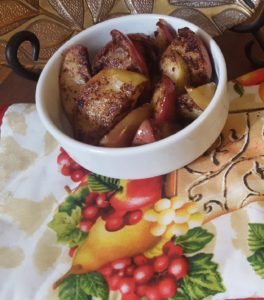 On an exciting side note, look what I found at the Supermarket yesterday:
Have a comment? Leave it below!
See Also:
Paleo Pumpkin Pie (nut free)
Soft & Chewy Pumpkin Chocolate Chip Cookies
Pumpkin Spice CoffeeCopyright 2016 Jill Mac Nutrition. Email: Jill@jillmacnutrition.com