Chicken Thighs with Mushroom Gravy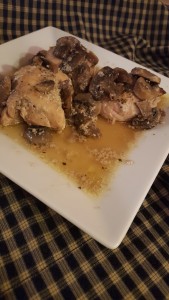 I've been more busy than usual since I started the Nutritional Therapy Consultant program through NTA, so the crockpot is a lifesaver! It's only been a week since the program started, but I am loving it so much already! A lot of the introductory material was information that I already knew from my own research, but I learned even more and I'm so excited to share that information with all of you. I'm really excited to see how I can help people heal themselves using proper nutrition and a whole food based diet. I've always been interested in biology and history, so nutrition and diet is really fascinating to me. It's interesting to learn how we got to where we are today, in terms of our modern "Western" diet, although sad at the same time. In recent years we have been making great progress in returning to the traditional foods of our ancestors, and I know we will be able to beat the "Food Giants" by spreading the message of how important food quality is, starting from the soil and all the way up the food chain.
Anyway, this recipe is so easy and it's slow cooked, preserving the nutritional content. Chicken cooks relatively quick, so cooking on low for 6 hours is plenty. Don't worry if it sits in the crockpot for longer than that, the gravy will keep it from drying out. This recipe features Flavorgod Garlic Lover's seasoning (click the link to order online). I served mine with mashed cauliflower and asparagus and it was great.
Easy- *****
Fast- * (*****)
Spicy- noCopyright 2016 Jill Mac Nutrition. Email: Jill@jillmacnutrition.com